Section Menu
Supplement your health insurance.
A Health Savings Account (HSA) is a different kind of checking account, used in conjunction with a High-Deductible Health Plan (HDHP) offered by your employer. It's a great way to set aside pre-tax savings for future medical expenses. Our HSA is free to our members, and there is no annual "use it or lose it" deadline to worry about.
Use the handy debit card we provide or load the information into Apple™, Samsung™ or Google Pay™.
Health Savings Account Card from St. Francis X Credit Union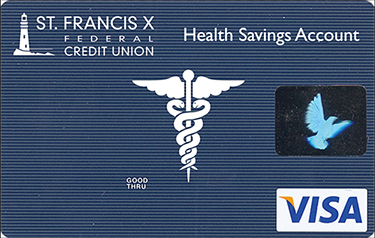 Two other great things about our HSA:
It earns interest on a tiered basis—the more you have on deposit, the higher your interest rate.
When you retire, you can use these funds for health insurance premiums.
Welcome to the neighborhood. Talk to us about your HSA needs and let's get you started. Feel free to drop by any convenient branch or give us a call. We're looking forward to showing you what makes us truly unique.